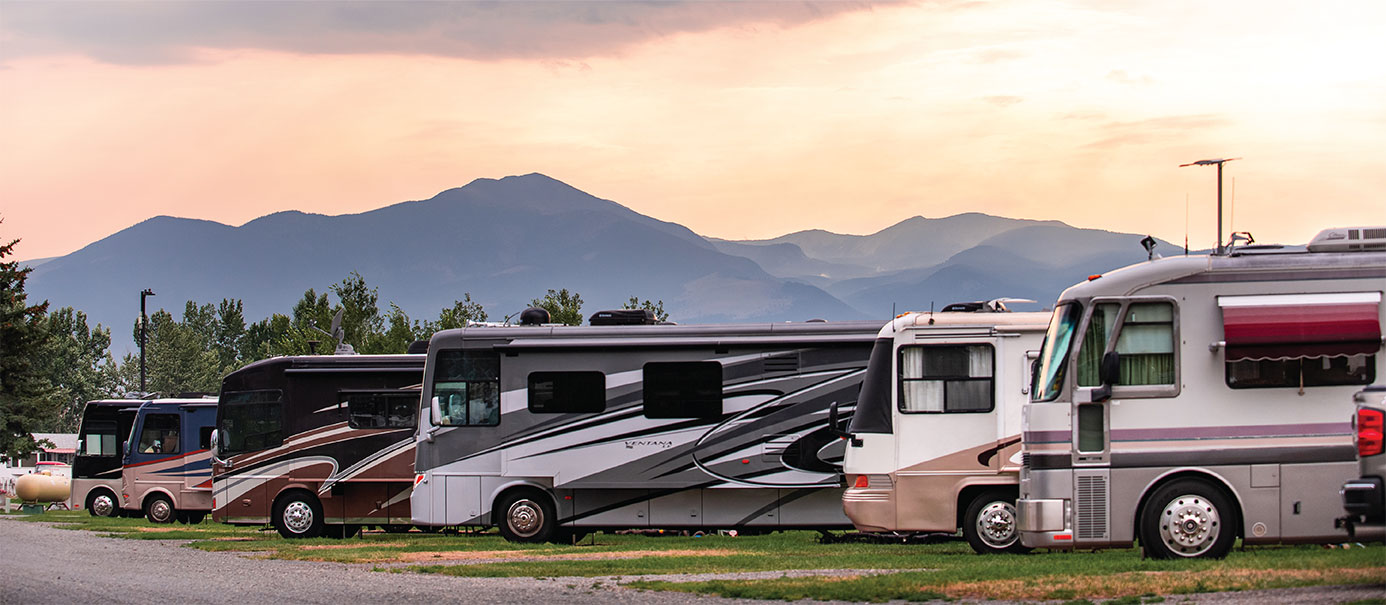 Things to See and Do
We think you will love our little slice of heaven. Visit these sites for details and you can always ask the campground hostess for more ideas. Watch for the for our own Fickler Family Favorites (FFFs).
Area Events
We encourage you to take advantage of memorable events that will give you a taste of Montana's community spirit and warm hospitality.
Dining, Shopping and Entertainment
Whether you're looking for the coolest Montana swag, the tastiest microbrews and ribeye steak, or a relaxing hot spring, southwestern Montana's small towns deliver big!
Barclay II
Smelter City Brewing
(Lemonade Stand Lager)
Donivan's
Beautiful Life Clothing Boutique
Black Dog Antiques & Interiors
Mackenzie River Pizza Company
(Flathead and Stockman pizzas, house salad)
Casagranda's Steakhouse
(Deep-fried mushrooms)
Metal Sports Bar and Grill
The Montana Club
(Huckleberry Mule)
Headframe Spirits
Butte Brewing Company
Sparky's Garage, Rib & Chop House
Town Talk Bakery
Front Street Market
Hanging Five Restaurant
(Best Breakfast)
Park 217 Restaurant and Wine Bar
Silver Bow Drive-In (movie theater)
Twisted Sisters Boutique
We're proud to point you to our family-owned Fic's Plaza, which is home to bluTACO, Champs Chicken, and Beer Cave
(Ask your campground host for a drink chip that you can use in the Golden Spike's Caboose Lounge)
4B's Restaurant
Golden Spike Casino (also has liquor store and lounge with indoor and outdoor seating!)
Sesame Wok (Thai & Chinese)
DinoMart & Subway (includes Montana-made products)
Parker's Restaurant (Ask for Jen)
(Steak sandwich, Pizza burger)
Fic's Conoco
(another family-owned c-store that we take great pride in; it's the best place to fuel up and grab a snack)
Philipsburg Brewing Company
(HayBag Hefeweizen, Razzu)
Sapphire Gallery
The Sweet Palace
Stuff & Such Antiques & Collectibles
Recreational and Historic Sites
You'll never run out of places to explore and recreate, as well as awe-inspiring vistas to take in during your travels through the Treasure State, but there are a few nearby gems that we don't want you to miss.
This gorgeous, 64-mile-long loop takes you through copper country, where you can view the original smelter stack (the tallest masonry structure on earth!) while enjoying breathtaking scenery of the towering Anaconda Range in the Anaconda-Pintler Wilderness, visit several ghost towns and learn about the area's rich mining history, stroll through the charming shops in historic Philispburg, and recreate in the refreshing waters of Georgetown Lake, among other sites. Click here for a map and list of places to see and visit along the way.
Fairmont Hot Springs
Montana Zipline Adventures
Old Works (Jack Nicklaus signature course)
Copper Village Museum
The World Museum of Mining
Our Lady of the Rockies
Berkeley Pit
Copper King Mansion
Mai Wah Museum
Old Butte Historical Adventures (underground tours)
Grant-Kohrs Ranch National Historic Site
The Old Montana Prison Museum
The Montana Auto Museum
Historic Cottonwood City Park
Rialto Movie Theater
Powell County Museum
Discovery Ski Area (includes summer mountain biking)
Pan for sapphires in the Sapphire Gallery, Montana Gems, and Gem Mountain
Deer Lodge, Montana
Halfway Between Glacier and Yellowstone
Distances (in miles) of Montana cities and towns from Deer Lodge/Indian Creek Campground
Anaconda: 24
Avon: 24
Belgrade: 122
Belt: 240
Big Timber: 195
Billings: 279
Boulder: 74
Bozeman: 134
Broadus: 503
Butte: 39
Chinook: 281
Choteau: 158
Circle: 522
Columbia Falls: 224
Cooke: 271
Culbertson: 524
Drummond: 32
Forsyth: 381
Garrison: 11
Great Falls: 147
Glacier National Park: 246
Hamilton: 128
Helena: 55
Helmville: 53
Hot Springs: 157
Kalispell: 186
Laurel: 246
Lewistown: 248
Libby: 271
Livingston: 159
Malta: 249
Manhattan: 113
Miles City: 427
Missoula: 83
Ovando: 80
Philipsburg: 54
Plentywood: 571
Polson: 152
Poplar: 491
Superior: 144
Three Forks: 102 Virginia City: 114
Whitefish: 219
West Yellowstone: 196